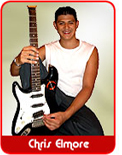 Continuing on from the previous mini-lesson, this time we'll cover the final chords of D, E F & G.
As usual, let's represent each finger with a number. So in the following diagrams of chords, place each number on the appropriate strings as shown below.
Once you place your fingers in the spots as shown, brush down on the strings near the sound hole or the body.
Can you hear every string? Are they ringing clearly or are they are muffled mess? If it sounds jumbled, adjust your fingers so they press down correctly.
Side Note: The "o" represented in the diagram means that the string is to be played OPEN. Whereas the "x" means not to play the string at all. I.e. mute it, or try not to strike it when you are strumming the chord.
left handed players


right handed players

left handed players


right handed players

left handed players


right handed players

left handed players


right handed players

This lesson was taken from Guitar Tips